The KHL regular season has ran its course and it's time for KHL playoffs 2017/2018. It was another season of no big surprises, although it was close until the end: one of the powerhouses Avangard Omsk clawed their way into the playoffs by last minute goal in the last regular season game.
Not a member? This is the best time to join! Sign up now and you'll get ALL of AccuScore's 2018 NHL regular season picks and the playoffs predictions... and much more! JOIN ACCUSCORE TODAY!*
*Use code NHL25 for 25% off an ALL SPORTS membership: Limited time Offer!
*First time members get a free 7-day trial of AccuScore's full site when you register for a monthly membership.
Comparing to Accuscore's KHL season preview, two teams in each conference were not expected to make it to the playoffs and then of course two teams disappointed us and didn't make it. In the western conference Dynamo Moscow were left out, but their financial problems indicated there might be trouble brewing. They were in contest until the last game, but Spartak Moscow took the spoils and climbed to the playoffs instead. The other disappointment in the west was Dinamo Minsk, who never looked competitive whatsoever. Their place was taken by Severstal Cherepovets, who now have the ungrateful task of facing the overwhelming regular season winners SKA St.Petersburg.
In the east it was Neftekhimik Niznekamsk who surprised everyone and took the sixth place. It was predicted to be a close race for the last spots and this time both Sibir Novosibirsk and Barys Astana were left out. Instead, Amur Khabarovsk made it to the eight place.
So a couple of surprises in the regular season but no shockers. In the playoffs it's a whole new ballgame – or is it? According to Accuscore simulations it seems that the big clubs are still going strong and the challengers stand no chance. Here's how the winning percentages look for KHL Playoffs 2017/2018: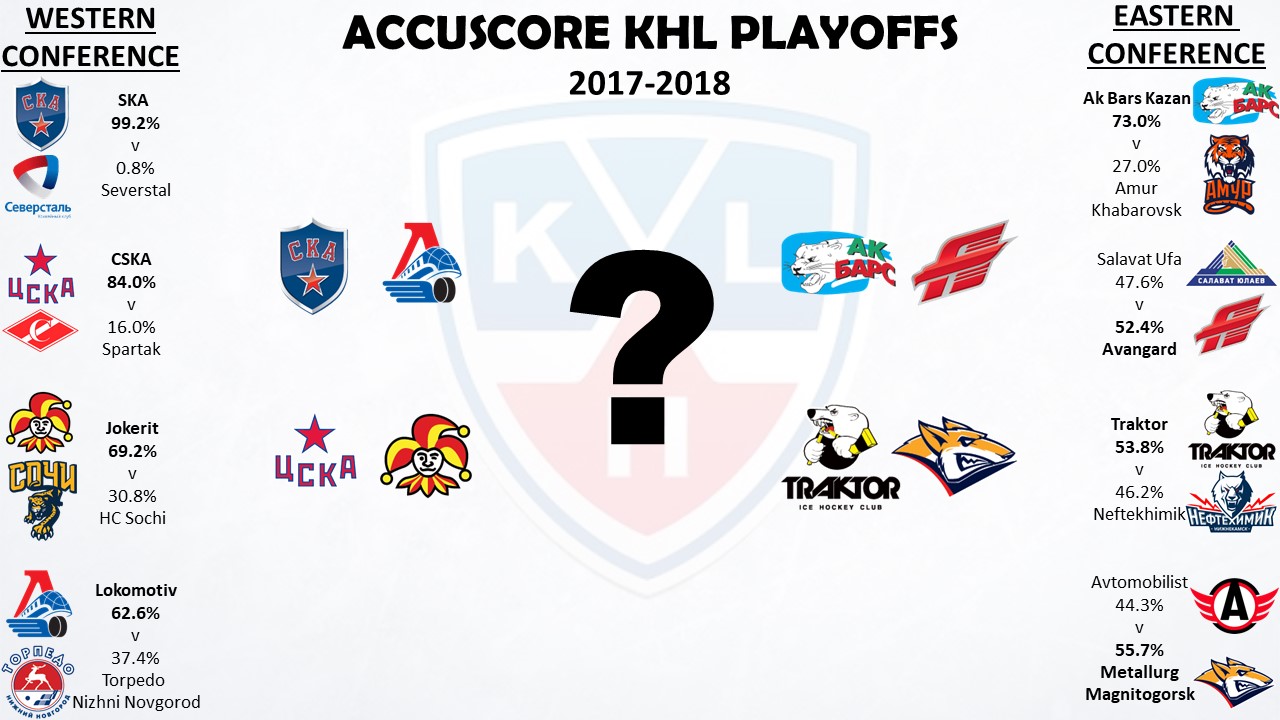 Accuscore analysis
As it stands, in KHL western conference there are the big teams and then there are the challengers. SKA and CSKA are overwhelming favorites and it's unlikely that teams like Jokerit or Lokomotiv are able to put up a real fight with these juggernauts. The Olympics might provide a bit of an edge for the smaller teams, as SKA and CSKA had plenty of players participating, while most of the other teams had a break – albeit Jokerit also had quite a presentation in the games. Offensively talented Sochi might surprise and we should never count out the team made for playoff-hockey, Torpedo. Still, the favorites are all likely to progress through to the next round in the west – it would take somewhat of a surprise to upend any of the top-4 teams.
The east is much more complicated and while Ak Bars Kazan has a clear way through, the other pairings are close and tricky. Both Neftekhimik Nizhnekamsk and Avtomobilist Yekaterinburg had excellent regular seasons and will put up a proper fight against their opponents Traktor Chelyabinsk and Metallurg Magnitogorsk. Same goes for the meeting between two big clubs Avangard Omsk and Salavat Ufa – who are used to being in contest for at least the conference championship. In the end, Traktor, Magnitogorsk and Avangard have just a little bit better and deeper rosters, which give them a small edge to progress through. But it will be as close as ever.
For every NHL, KHL and Finnish Liiga match, AccuScore has expert analysis and picks for members.