Written by AccuScore Staff
Follow @AccuScore on Twitter
2019 Baseball Season Futures - Win Totals & Picks
The 2019 MLB season is starting, which means the marathon season is upon us. That also means this is the best time to take a look at AccuScore's total win projections and compare them against Vegas win totals lines to find value. AccuScore's projections will adjust as the season progresses and you can always see adjusted win-loss projections at the bottom of the Expert Baseball Picks page.
So, without further delay, here are AccuScore's baseball season win projections side-by-side with Las Vegas win totals lines.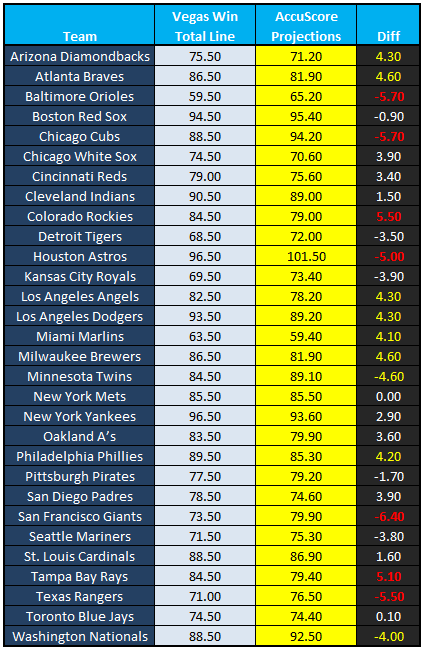 As you can see, there are a number of teams where AccuScore and Vegas disagree on projections, and we've put the ones that are off by 5.0 games or more in red and the ones that have a difference of 4.0 games or more in yellow. Notably, the win total lines for the Toronto Blue Jays and New York Mets are just about identical for both Vegas and AccuScore.
On the opposite end, the greatest value comes via the San Francisco Giants. Vegas has set a line of 73.5 wins. AccuScore projects the Giants will win 79.9 games, which means there's a 6.4 game discrepancy. Only five teams have worse win total lines to start the season, and the odds of the Giants outperforming the low line are pretty good according to AccuScore.
AccuScore has every Opening Day game projection live with Expert Baseball Picks for every game!
Not a member? Use code MLB20 and get 20% off an All Sports monthly or annual membership for a limited time (Note: Free 7-day trial available for first time members): Join AccuScore Today!

Baseball Futures Expert Picks: 2019
1. San Francisco Giants: OVER 73.5: The Giants are simply projected to win far more games according to AccuScore, and this is the greatest value pick on the board.
2.Tampa Bay Rays: UNDER 84.5: The Red Sox and the Yankees are stacked, and both teams are projected to win over 90 games. Add in that the Orioles are projected to win 65 games, according to AccuScore, and there just aren't all that many wins left for the Rays in the AL East. It'll be an interesting fight, but there are a lot of good reasons to pick the Under here.
3.Kansas City Royals: OVER 69.5:OK, the Royal are not projected to be good, but even the slightest of good runs and the Royals pay off big time. In this case, the Royals only need to get to 70 wins to pay off, and AccuScore projects a robust 73.4 wins. Take the Royals Over.