Nothing new under the Spanish sun
Spanish football league La Liga kicks-off this weekend and we could've copy/pasted this article from last year, since not much has changed after Barcelona's triumphant fourth championship in five seasons. Only Real Madrid twice and Atletico Madrid in that oddball year of 2014 have managed to dethrone Barcelona in the past decade and it seems highly unlikely this year as well. Stranger things have happened, though, but not in Spain.
Barcelona leads the way heading to the new season with acquisitions of highly rated Ajax midfielder Frenkie de Jong and Atletico Madrid's prolific forward Antoine Griezmann. With the offense already loaded with talent, Barcelona became even more dangerous up front which might ease the burden on Leo Messi, who has been suffering from minor injuries. The repetition of the past two successful seasons seems inevitable, as they are by far the strongest team in every position and have depth like no other team in the World. Barcelona's odds to win the league are slashed to 1.67 | -149, which is not attractive enough for a shot – even if it's a likely winner.
With the obvious now written down, let's have a look at the Accuscore's simulations for the oncoming season.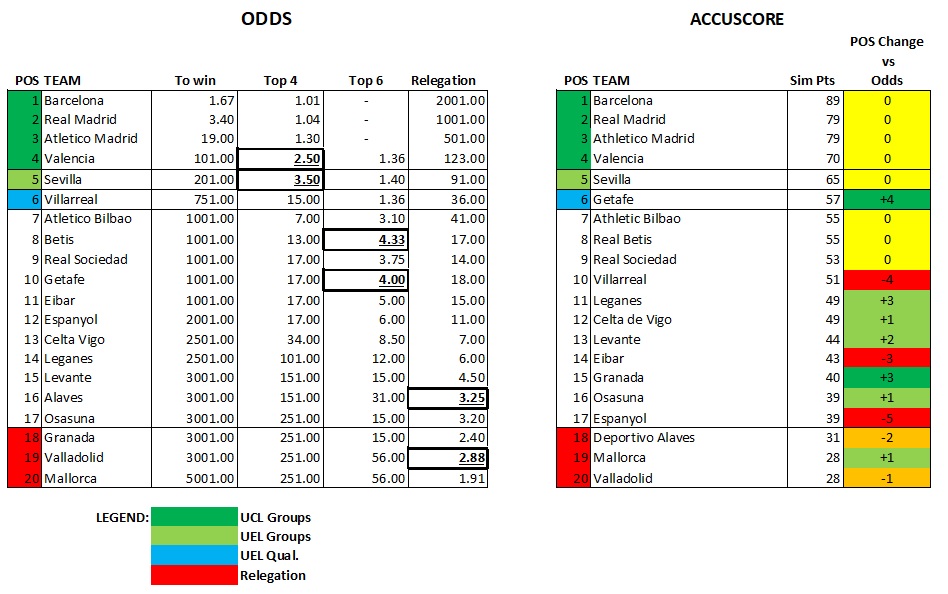 Challenging Barcelona
Challengers are once again as usual, Real and Atletico Madrid. Real has struggled domestically after the departure of Christiano Ronaldo and they've yet to find a new leader especially in the offensive end. Now they're putting their faith in Chelsea's fantastic Eden Hazard, who seems like a perfect fit for Zinedine Zidane's resurrection project. The likes of Luka Modric, Toni Kroos and Casemiro patrol the midfield and the team has good balance overall. Acquisitions of defender Eder Militao and left-back Ferland Mendy provide much needed competition and depth to the defensive end, where Sergio Ramos and Marcelo have carried a huge load in the past seasons. Real is likely to do better than last season, when they lost incredible 12 times. Still, Barcelona is way ahead and it's hard to see them stumble. Real to win the league with odds of 3.40 | +240 is there-there if it's worth a shot – in simulations they are 10 points behind, but win the league with ~30% probability.
Diego Simeone's Atletico Madrid is now without their talisman Antoine Griezmann, but acquired "new CR7" in Portuguese wonderkid Joao Felix. It's the same old story for Atletico, flying under the radar and fighting relentlessly with the big boys. They've bolstered the team with tough and hard-working players like Porto's midfielder Hector Herrera and central back Felipe, while bringing in Real's outcast midfielder Marcos Llorente and Spurs fullback Kieran Trippier. Diego Simeone knows exactly how to win the league without the superheroes, but it would definitely need a slip up from both of the giants. It's an unlikely scenario so there's not much to bet on Atletico this time around.
Fighting for Europe
Behind the big three comes a couple of hopefuls to capture the coveted Champions League seeding at 4th. Europa-league games are a fine target as well and this time there's only the 5th and 6th achieving that chance – down from last season's seven.
Valencia and Sevilla are the most likely UCL-candidates, but are both way behind the top three. Valencia took the fourth spot last season and will have some burden from the Champions League this season. However, they've got adequate depth in that regard and have otherwise been able to stay competitive. Sevilla, on the other hand, have a new manager Julen Lopetegui, who's been busy molding the team to his liking. Gone are the likes of Wissam Ben Yeder, Pablo Sarabia and Quincy Promes, replaced by dynamic Rony Lopes, Lucas Ocampos and Oliver Torres. Sevilla's attacking style is likely to be balanced at least a bit, with acquisitions of highly rated Ligue 1 central backs Jules Koundje and Diego Carlos. Sevilla and Valencia are fighting equally for the 4th place, but Valencia might have a slight advantage due to fielding a well-gelled team from the start. Odds for Valencia to make it to top-4 are 2.50 | +150 and Sevilla 3.50 | +250, which are nicely playable – you choose which to go for!
Moving down the table to the Europa-league hopefuls, there's a bunch of candidates relatively close to one another. Within six points in the simulations are Getafe, Athletic Bilbao, Real Betis, Real Sociedad and Villarreal. Now, Villarreal is predicted to top 6 by many oddsmakers, but their last season was catastrophic seeing them succumb to 14th and they've not grown that much stronger during the summer. On top of that, their closest rivals look more competitive this time around so Villarreal is predicted only tenth in Accuscore simulations. Getafe is the highest riser, mostly due to excellent last season and a team that looked only to get better under the guidance of Pepe Bordalás. Not much has changed from last season, except for a bit of experience brought in. Getafe is in for another successful season, with odds of 4.00 | +300 for achieving top 6.
Another team grown a tad stronger during the summer is Real Betis. Especially the acquisition of prolific striker Borja Iglesias from Espanyol was a coup, while Nabil Fekir and Juanmi provide adequate support. Quite unproven manager Rubi is a questionmark, but Betis is definitely challenging for top 6 spot as well. The odds for the feat are 4.33 | +333, which makes Betis a good bet for top 6 seeding.
Going down
Surprisingly the trio going down in Accuscore simulations is almost the same as the odds indicate. Only exception is Granada, who is likely to stay up according to Accuscore's simulations and head down by the bookmakers. Valladolid is quite simply the weakest team this season, with newly promoted Mallorca. They escaped relegation last season by four points, mostly due to Girona's disastrous last couple of weeks. This time Valladolid is not likely to be as lucky and down they go. Odds of 2.88 | +188 are good enough for a punt. Taking the place of Granada in Accuscore's most likely relegation candidates is Deportivo Alaves. Alaves had a successful season last time around and they climbed to 11th. However, they head to the season with a new and unproven manager and first time ever, any expectations. The battle at the relegation line will be tough, but with odds of 3.25 | +225, Alaves is a good pick.
Accuscore's La Liga 2019/2020 Outright Picks
To win: Real Madrid 3.40 | +240
Top-4: Valencia 2.50 | +150, Sevilla 3.50 | +250
Top-6: Getafe 4.00 | +300, Real Betis 4.33 | +333
Relegation: Valladolid 2.88 | +188, Deportivo Alaves 3.25 | +225
For all the Spanish La Liga picks and predictions JOIN ACCUSCORE NOW!
Membership includes access to all the Accuscore's analysis on the major soccer leagues, MLB, NFL, NBA, NHL and much more.