The UEFA Champions League finally returns from too long a break, with only the top-16 clubs in Europe remaining. Despite of a couple of surprise inclusions, the top of the bunch is as usual.

Here are Accuscore's simulations for the 1st Knockout Stage and current power rankings of the top-8 participating teams. Injuries and suspensions – among others – are likely to mix the deck before the UEFA Champions League final on June 1st in Madrid, but we'll adjust on the way.

Click to enlarge in a new tab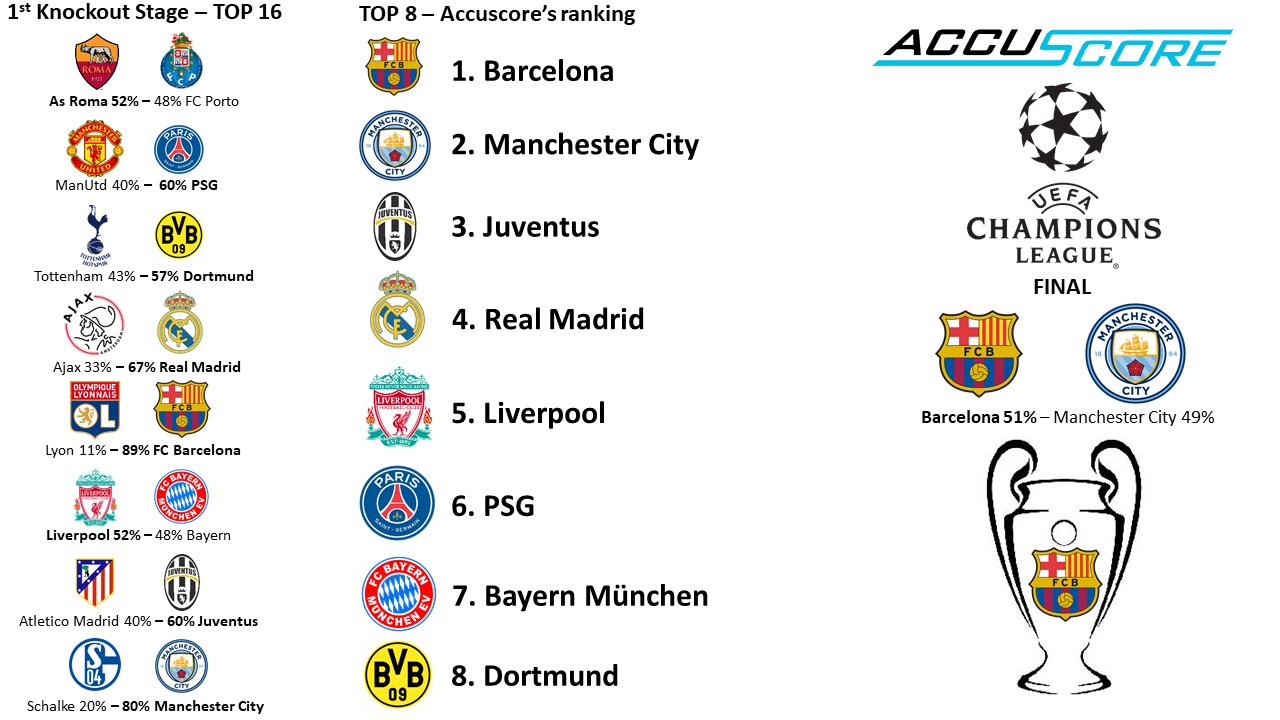 Real Madrid is looking for their fourth straight title and fifth in six years, this time without Cristiano Ronaldo. Their season has not exactly been a success so far but look for the Galacticos to be at their best on the big stage. Barcelona has a bone to pick, especially with their domestic rivals, and they are currently leading the way in Spanish La Liga. Barca has been knocked down a couple of times in the last seasons and it might finally be the time for Leo Messi and co. to get their revenge – possibly against their former manager Pep Guardiola and Manchester City.
While Real and Barcelona form the power duo from Spain, Liverpool and Manchester City do the same for England. They are also in the middle of a fierce domestic title battle, which might prove costly when push comes to shove. Manchester City looked unstoppable at first, but now it looks like anyone's game. In UCL, Liverpool was nearly eliminated from the group stage and they need a massive improvement if they want to progress from the first round – luckily for Pool, their opponents Bayern Munich seem to be in somewhat of a decline.
In Germany, Dortmund has usurped the Bundesliga throne for the time being, but Bayern Munich's old boys seem to get better as the stakes get higher. It's a new situation for Bayern Munich, since now they do have to battle on two fronts. Both the German clubs looked good on the UCL group stage and could be somewhat of dark horses for the title race.
In old news, Juventus still dominates Italian Serie A as does PSG in France – although the Parisians are dealing with a bit of an injury crisis. The two powerhouses will throw their whole weight on winning the Champions League, so we can expect some desperation from the both clubs starved from the UCL title.
Some surprise element can be reserved for the English duo of Manchester United and Tottenham Hotspur. ManU got rid of Jose Mourinho and have looked good so far under Ole-Gunnar Solskjaer – but are yet to be properly tested. Spurs are spread so thin with domestic title chase and injuries that they might need a miracle from the medical tent, or Harry Kane. Spanish underdog Atletico Madrid is once again flying under the radar and could surprise many, although it seems that Diego Simeone's momentum has already passed. They can never be counted out though.
AS Roma and Porto fight it out in the first round already and whoever wins, will likely face an unsurmountable obstacle in the 2nd round. Ajax Amsterdam comes in with a swagger but with young, highly inexperienced players. It's hard to imagine a powerhouse like Real Madrid succumbing in the 1st round, but Ajax will be fast and furious not giving in an inch. On the other hand, it's safe to say Lyon and Schalke are in too deep against two of the favorites and can take the journey as a nice experience but not much else. Neither of the teams impressed in the group stage and especially Lyon's one win was underwhelming. And Schalke is residing as 14th in Bundesliga, nearing the relegation zone, so there's that.
For all the Champions League Knockout Stage picks and predictions
Membership includes access to all the Accuscore's analysis on the major soccer leagues, MLB, NFL, NBA, NHL and much more!