Accuscore's 2019 NHL Stanley Cup Playoffs
It's playoff time in the NHL, which means Accuscore's bracket and predictions all the way until the Stanley Cup Finals is decided. For all the picks and predictions during the NHL Playoffs 2019, JOIN ACCUSCORE NOW by using code "NHL25" for 25% off the membership price!


Accuscore's NHL Playoffs 2019 Bracket
After simulating every NHL Playoffs 2019 game for 10 000 times, Accuscore has come up with the most likely scenario from the first face-off to the hoisting of the Stanley Cup and this is how it looks like: click to enlarge in a new tab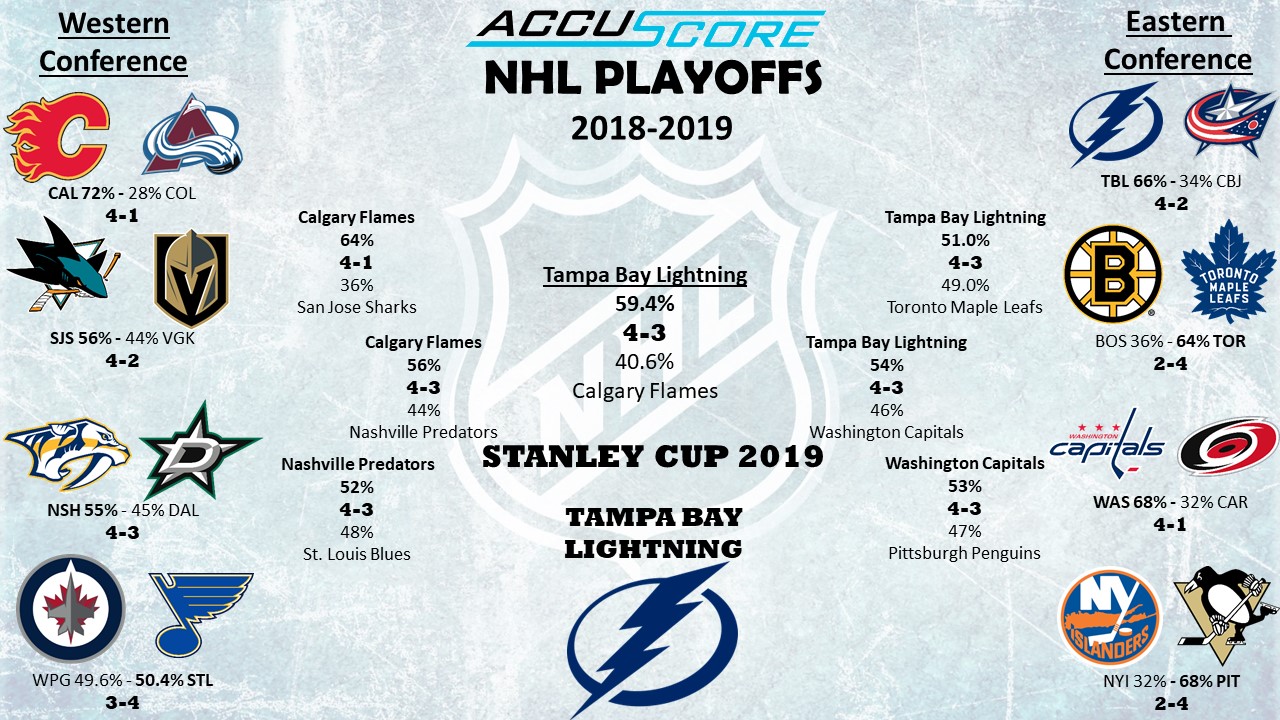 Accuscore's NHL Playoffs 2019 Predictions
There are a couple of surprises is the Accuscore NHL Playoffs 2019 simulations. Depending on your bookmaker, you might find different sorts of betting options and as usual we'll provide the predictions with our odds. You can then make the choice according to your options. Here are the best value picks based on the pre-playoffs predictions as compared to available odds:
Toronto Maple Leafs to beat Boston Bruins
Widely regarded as a piece of cake for the Bruins, Accuscore's simulations are determined it'll go the other way. The teams faced off last year in the same setting and Toronto has only gotten better since then. Boston is a strong, hardened team, but Mike Babcock and his young troops are in for a fight and are playing with a chip on their shoulder from last year's narrow 4-3 defeat. Boston did win three of four regular season matchups, so they've got a small edge from past meetings. However, with the odds set clearly against the Maple Leafs, the young guns are certainly worth a shot. Take Toronto to progress with odds of -150 | 1.67 or better!
Washington Capitals to finish off Carolina Hurricanes
The reigning champions had their usual issues during the regular season and it can be questioned how much hunger the team has left after finally entering the winners circle. However, the team is top notch all over, with enormous amount of playoffs experience - and now the Capitals know what it takes to go all the way. Carolina Hurricanes has been an inspiring sparkle all season, but the team is inexperienced and not quite there yet when it comes to killing of even matched games. Their time will come, for sure, but it's too early for now. Take Washington Capitals with the odds of -210 | 1.48 or better!
Western Conference regular season winners Calgary Flames over Colorado Avalanche
The Flames were in flames most of the season, led by suberb performances by Norris-candidate Mike Giordano and red-hot goalkeeper David Rittich. The team has been built with patience and it's finally coming to fruition after some difficult times. Flames boasts top quality offensive talent, a deep secondary scoring unit and excellent defensive core in addition to sublime goaltending. The group is inexperienced in the playoffs, but it should not prove to be a problem in the first round - especially against equally inexperienced Colorado Avalanche, who are quite frankly not even close to Flames regarding quality down the line. Their top line is fantastic, but not quite enough to challenge the Flames this time around. Take the Flames to continute from the pair with odds of -256 | 1.39 or better!

Keep an eye out for the next edition of Accuscore's NHL Playoffs 2019 predictions after the 1st round! We'll review the previous picks and provide an updated bracket and predictions then. And remember, in order to gain access to all NHL Stanley Cup Playoffs picks and predictions, SIGN UP NOW with a code "NHL25" in order to receive 25% off of the membership price!