Juventus and the rest
An intriguing Serie A season lies just around the corner. After another year of Juventus' dominance, it looks like something might be brewing in Italy: four of the top five teams have changed their manager during the summer, with Juventus, Roma, Inter and AC Milan all under new rule. Only last season's 2nd placed Napoli continues to chase the title with a familiar face in reigns. Juventus has now won eight Serie A titles in the row and despite the changes, they are still clear favorites to win the ninth. But behind Juve it looks interesting enough, with the big five being challenged by the likes of Atalanta, Lazio and Fiorentina.
On top of the managerial change from Massimiliano Allegri to Mauricio Sarri, Juventus have only fine-tuned their remarkably strong squad. Highly rated youngster Matthijs de Ligt arrived from Ajax, while midfield was bolstered with Aaron Ramsey and Adrien Rabiot, both renown international level players. The only remarkable departure was Joao Cancelo, who was amply replaced by almost as good Danilo. Striker Moise Kean found himself out of Sarri's plans and headed out with a couple of other rotation players. Under Sarri Juventus is once again clear favorites as the team is still by far the strongest in Serie A. The core of players is aging though, but it's yet to show on the pitch – maybe after 10th straight it's time for someone else?
Here's how Accuscore's simulation engine plays out the Serie A season 2019/2020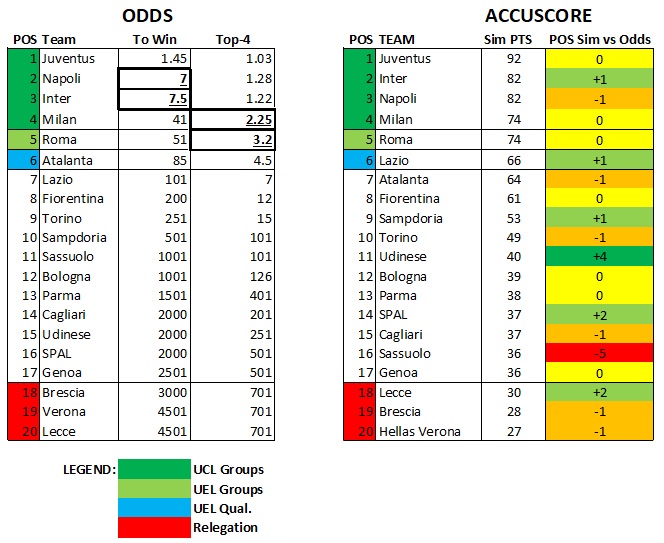 Challengers to the title
The usual challengers to Juventus include Napoli, Inter, Milan and Roma. Inter Milan head to the new season with former Juventus legend Antonio Conte. Romelu Lukaku arrived from ManU and has impressed already in the pre-season, but situation with Mauro Icardi remains unsolved. Looking to improve from last season's 4th place, Inter's defense is strong and solid, but goal-scoring has been an issue. Lukaku and Lautaro Martinez both need a proper playmaker to succeed and it yet remains to be seen who'll fill those shoes. Inter is almost certainly in top-4, but challenging Juventus looks like too big a task for now.
As stated before, all the top clubs but Napoli are under guidance of a new manager, which brings at least some excitement in the battle for the Scudetto. Napoli is once again predicted right up there, with no remarkable losses during the off-season and a couple of additions to the depth of otherwise quality squad. Carlo Ancelotti has shown he has what it takes to push Napoli to their limits and with a skilled, well gelled squad they're a good candidate to end Juventus reign in Serie A. For a long-shot bet, Napoli's championship with odds of 7.00 and Inter's title with odds of 7.5 have some value in it. If it's not Juventus this year, it's very likely to be either Napoli or Inter.
There's a bit of a drop after the top three clubs, as both Roma and AC Milan are somewhat in a churning phase with their squads and new managers. Roma acquired some established talent around the league, such as Leonardo Spinazzola, Bryan Cristante, Amadou Diawara and Jordan Veretout. They also let go of some core players like Konstantinos Manolas and Stephan El Shaarawy. All in all, Roma seems to be close to their last season's level, only with new manager with no experience in Serie A. Paulo Fonseca did an excellent job in Porto, Braga and Shakhtar Donetsk, but in all honesty the competition is not the same as the top of Serie A.
AC Milan had enough of Gennaro Gattuso's project only after two season and he was replaced with a surprise appointment Marco Giampaolo. Giampaolo has risen through the managerial ranks with Cremonese, Empoli and Sampdoria, but with no remarkable success in any. The squad is full of quality – mostly due to Gattuso's spending in previous seasons – but AC Milan kept struggling through the two last years especially in the offensive end. Giampaolo has brought in another batch of raw, young talent and only let go of some fringe players. The team should do better than their 5th and 6th placing, but a lot is up the new manager and his visions.
Both Roma and AC Milan put up a good challenge for at least Inter and Napoli. Juventus is likely too far ahead for now. The odds for Milan to reach top-4 are 2.25, which is niftily playable and Roma with 3.2 looks like an excellent choice.
Outside push
After the title and Champions League hopefuls, there's the up-and-coming Atalanta, who sensationally claimed the third place last season. With the Champions League ahead, Atalanta are in for some issues. They are not very deep team in any case and they've lost Franck Kessie and Bryan Cristante from the midfield during the summer. While Gian Piero Gasperini has done remarkably good job with Atalanta, the reality is that in order to keep up with the bigger clubs they'd need some proper investment or at least another bunch of breakthrough players. It seems unlikely they're able to repeat the last season's heroics and are likely to fall to 7th.
Lazion has fallen from grace and mostly forgotten altogether when speaking of the top clubs. They are hanging right there after the challengers but not quite good enough to make a push for it. They were only eight last season, down from 5th in the previous one and manager Simone Inzaghi is on hot coals. In Accuscore simulations Lazio fights tooth and nail with Atalanta for the last European seeding at 6th and makes It with only 2 points separating the duo.
If possible, make a U-turn
The three newly promoted teams, Lecce, Brescia and Verona are deemed by far the weakest in the Serie A this season – and justifiably so. Currently most of the other relegation candidates are well established teams with at least a handful of experience in Serie A. The newcomers are not that lucky and their teams still seem much better suited to Serie B – despite Brescia's signing of Mario Balotelli - than with the big boys. It would take an unlikely stumble from one of the better clubs in order for any of the newcomers to survive.
For all the Italian Serie A picks and predictions JOIN ACCUSCORE NOW!
Membership includes access to all the Accuscore's analysis on the major soccer leagues, MLB, NFL, NBA, NHL and much more.