The Kontinental Hockey League has reached the second round of the playoffs, with four teams remaining in both Western and Eastern conferences. There were hardly any surprises in the first round and Accuscore's pre-playoffs prediction had 7/8 pairs correct – and the only wrong one was the so called coin-flip with less than 53% probability for the winner.
Not a member? This is the best time to join! Sign up now and you'll get ALL of AccuScore's 2018 NHL regular season picks and the playoffs predictions... and much more! JOIN ACCUSCORE TODAY!*
*Use code NHL25 for 25% off an ALL SPORTS membership: Limited time Offer!
*First time members get a free 7-day trial of AccuScore's full site when you register for a monthly membership.
KHL Playoffs 2018 – 1st Round Recap
In the west, the pairs were rather lopsided to start with. The giants SKA St. Petersburg and CSKA Moscow had their extra day of rest after Olympics celebrations and progressed in four games. SKA had their life made difficult – at least seemingly – by Severstal Cherepovets who took two games to overtime, but in the end the minnows stood no chance, despite some controversy. CSKA on the other hand only allowed one goal in four games and only did what's necessary against their local little brothers Spartak.
Lokomotiv Yaroslavl had a full day's work against Torpedo, but Loko prevailed in four games by taking two narrow 2-1 wins at home and then two overtime victories 2-3 in Nizhny Novgorod. Jokerit and Sochi had the longest series in the West, as the Finnish team fell in overtime at home in game 1 – only to bounce back with four straight victories including overtime wins in the last two games.
The East was, as predicted, a lot closer than the West. Regular season winners Ak Bars Kazan were momentarily tested by the feisty Amur Khabarovsk, but the eastern giants progressed in five games. Same goes with Traktor Chelyabinsk, who had their work cut out for them against Neftekhimik, but managed to pull a bunch of one-goal-wins to survive in five.
Magnitogorsk struggled somewhat against Avtomobilist Ekaterinburg and it took six games to finish them off. Dropping a game at home is something unexpected from Magnitogorsk, but they bounced back with impressive away win and then punched their ticket at home in game six.
The closest pair and also the only one missed by Accuscore simulations – if only by <3% was Salavat Ufa vs Avangard Omsk. Despite falling 2-7 at home in game 2 and going 1-2 down before second game in Omsk, Ufa managed to capture the home advantage in game four and then prevailed in game 7 after overtime. Omsk tied the game up only 17 second before the buzzer, but Ufa responded and took the narrowest of victories to head to second round.
KHL Conference Semi-Finals 2018
Heading to the conference Semi-Finals are all usual suspects. In the West it's SKA vs Lokomotiv Yaroslavl and CSKA Moscow vs Jokerit from Helsinki. In the east, we see Ak Bars Kazan face Metallurg Magnitogorsk and Salavat Ufa taking on Traktor Chelyabinsk. It's easy to say the best eight teams remain, as they should.
In Accuscore simulations, each playoff game is simulated 10 000 times and the outcome of the series can be determined by the teams' winning probabilities. The first round was a success with 7/8 correct but it only gets harder from there. Here's how the simulations predict the second round of KHL Playoffs 2018: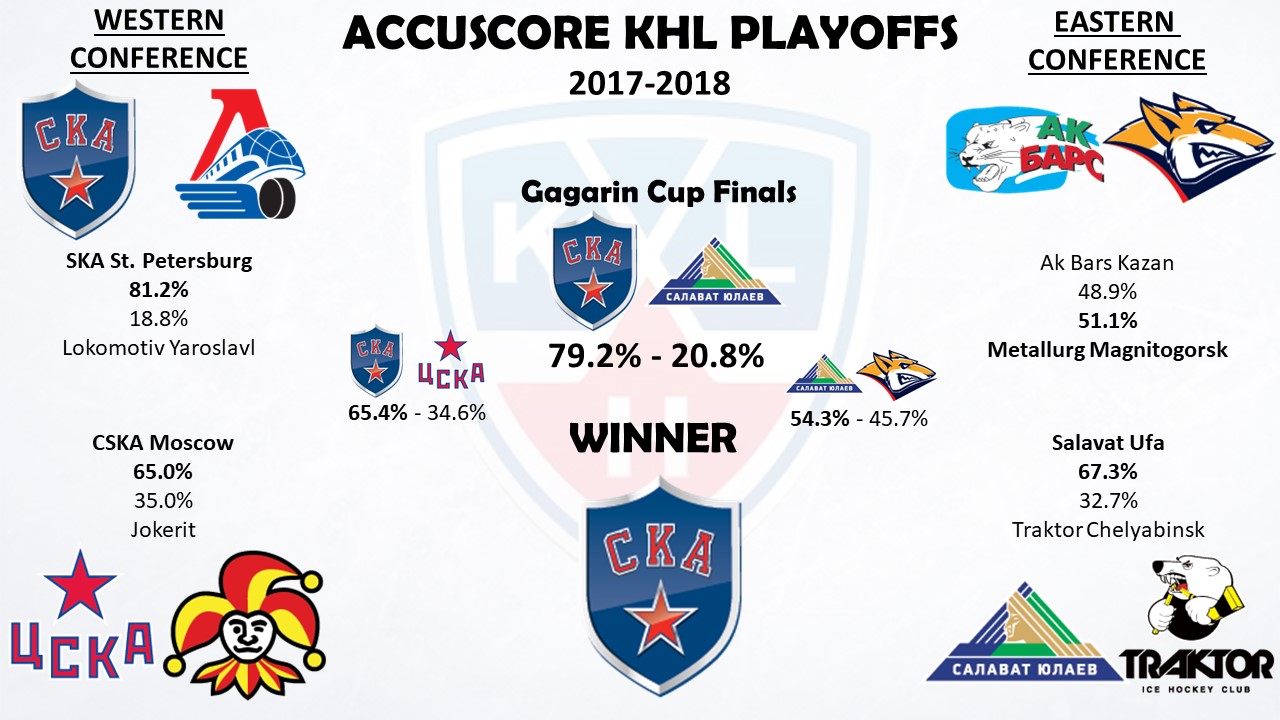 For every NHL, KHL and Finnish Liiga match, AccuScore has expert analysis and picks for members.
Accuscore Expert Analysis
The second round of the KHL Playoffs 2018 features no surprises in the West, but a rather interesting outcomes out in the East.
The western giants SKA and CSKA are likely to take their place in the conference finals once again with their start studded rosters. SKA might even be stronger this year than before, with at least four full lines of top notch players and a fantastic group of national team caliber defensemen. Most of SKA players took part in the Olympics and it remains to be seen if the team is still affected by the games (or the aftermath). It's still likely that SKA will go all the way, with no real challenge on the way.
CSKA is an extremely good quality team, although this season lacking in pure star-power they've usually boasted. Overcoming Jokerit is not an easy task, but with the home advantage they are still clear favorites. Jokerit have played excellent hockey at times, but lack a bit of consistency. Same goes to Lokomotiv, who just might've stood a chance against CSKA, but SKA is too tough for any team. Loko and Jokerit suffer from the lack of depth in their roster, and the harrowing schedule makes it all the more difficult to challenge the big boys.
The east is far more surprising and even, as is usual. While Traktor Chelyabinsk seems like the odd man out from the top trio, they still have a chance to surprise. Ufa gained a massive boost by overcome their struggles against Avangard Omsk and possess the quality to go all the way to the finals. They've also been inconsistent during the season, but looked brilliant at times against Omsk. Heavy favorites Ak Bars Kazan suffer a narrowest of losses against Magnitogorsk in the simulations. While Magni is not anymore the powerhouse of last season, with their dominating first line broken, they've a history of success and the core of the team has been through it all. It is a coin-flip between Kazan and Magnitogorsk and we're likely to see game seven.
Accuscore simulations results:
SKA – Lokomotiv: SKA in 5
CSKA – Jokerit: CSKA in 6
Ak Bars Kazan – Magnitogorsk: Magnitogorsk in 7
Ufa – Traktor: Ufa in 5