The winter is coming and so is the brand new NHL season. We're looking at another 1271 regular season games, starting from tonight and lasting until early April 2019. There's been some major movements in the league, but the strong teams are still strong and the weak are still weak – or are they?
The summer was riddled with big name transactions, as John Tavares finally quit New York and headed back home to Toronto. Ottawa's turmoil continued as arguably the best defender in the league, Erik Karlsson has left the Canadian capital for what can only be described as a ridiculous return from San Jose Sharks.
Last season finally saw Alexander Ovechkin and the Washington Capitals hoist the Stanley Cup – and it's been a summer of celebration for the Caps fans and players alike, as we've witnessed through various channels over the internet. Will the Capitals recover from the hangover to challenge once again?
Subscribe to Accuscore NOW to receive all the predictions, picks, game previews and forecasts for the upcoming NHL Season 2018/2019 and much more
By using code "NHL25" You'll receive a discount of 25% of the membership fee!
With the training camps over and rosters set for the opening night, Accuscore's supercomputer has worked its magic once again and pre-determined the outcome of the NHL regular season 2018/2019 by simulating each and every game for 10 000 times.
This is how the regular season standings are most likely to look after it's all done and dusted on April 6th 2019: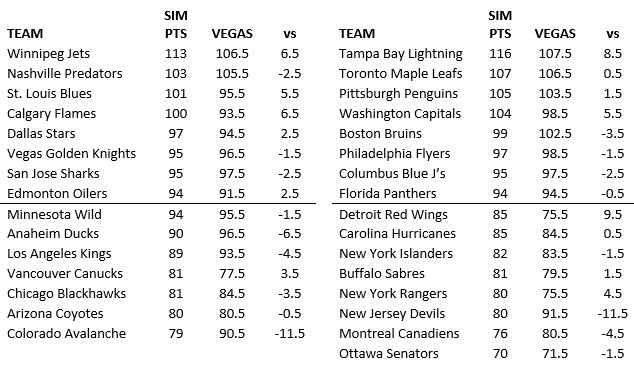 Accuscore's Regular Season Outright Total Picks
In the Western Conference there're not a lot of surprises. According to the simulations, both Winnipeg Jets and Calgary Flames manage to gather three more wins than the Vegas line would suggest. The line is rather high for the Jets at 106.5, but considering they already posted 114 points last season, it's worth a shot. Flames on the other hand missed playoffs last season with a meager 84 points, but they're a stronger group this time around and likely to make the playoffs. The line of 93.5 means that if they're in the battle for the playoffs, it should be a piece of cake.
The other end of the table sees Colorado Avalanche collapsing again far out of the playoff position. There are several question marks over the team, especially depth-wise but their young core might also surprise. Even if Accuscore's numbers indicate they only reach 79 points, the line of 90.5 is a tad too low to go for the under – in case they are able to hang in for the playoff battle, there could be some moves to further enhance their chances.
In the Eastern Conference the top looks very familiar and the bottom is quite as expected as well. Tampa Bay ended up with 113 points last season, and they're not any less convincing this time around. Gathering more points than last season from their weakened Eastern Conference bottom feeders should not be a problem and the line of 107.5 points seems reachable. At the other end of the queue, there's New Jersey Devils who are in a somewhat problematic rebuilding phase. Superstar Tayler Hall is likely to win a couple of games for his team, but otherwise the young core is unlikely to be able to push for playoffs and the line of 91.5 is a tad high. To add insult to injury, no.1 goalkeeper Cory Schneider is out for indefinite amount of time to start the season. Sorry Devils, this is not your season yet.
Western Conference Picks
Winnipeg Jets 106.5 points: OVER
Calgary Flames 93.5 points: OVER
Eastern Conference Picks
Tampa Bay Lightning 107.5 points: OVER
New Jersey Devils 91.5 points: UNDER
For more great analysis and advice on various sports, visit Accuscore.com!
To access all the predictions and picks, start a FREE 7-day TRIAL
By using code "NHL25" when subscribing, You'll receive a 25% discount of all memberships