The German Bundesliga is the last one of the big European football leagues to get going, but definitely not the least. Bundesliga has always been an excellent moneymaker for Accuscore customers, as the results are usually surprising for many and often the bookmakers over-estimate the difference in the team's quality. Most of the Bundesliga teams are very even when it comes to power rankings and especially at home the underdogs might provide excellent value. An exception to the rule seems to be, once again, Bayern Munchen, who keep on dominating the German football scene. The challengers haven't exactly even come close as the Bavarians have sat on the throne for six seasons and are the clear favorites to continue their reign for the seventh season in a row. Challengers include the likes of Schalke, Dortmund and Leipzig, but they are indeed some distance away from Bayern. The most intriguing battle will be fought between these challengers, behind Bayern. And probably down the table at the relegation line. There's likely to be plenty of surprises down the line, but let's have a look how Accuscore simulations engine predicts the season to go: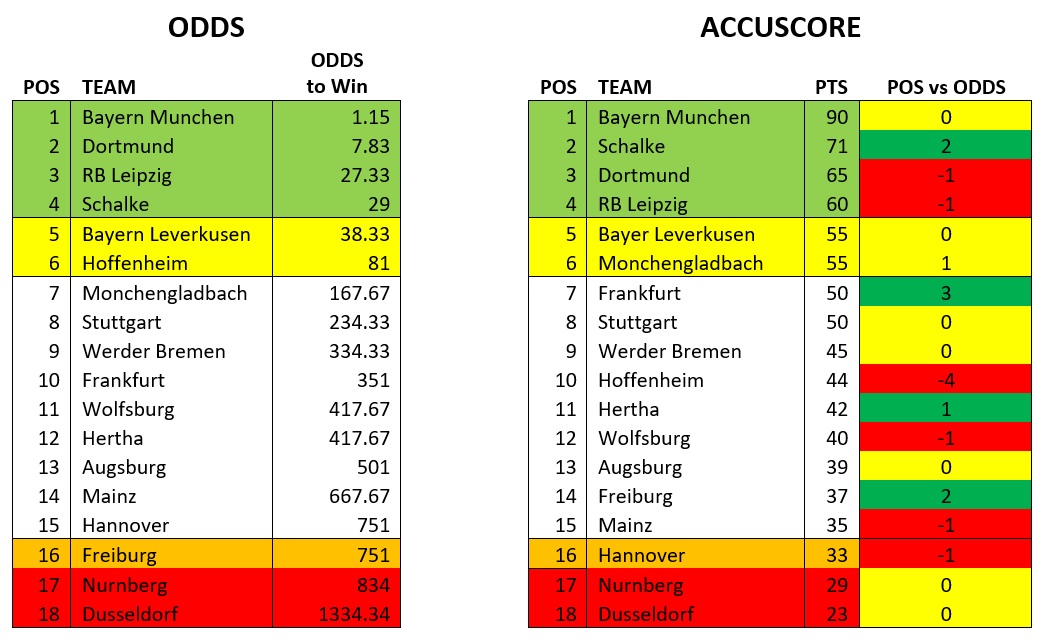 Analysis and Predictions
Accuscore predictions agree closely to the bookmakers, but there are small differences in the positions. Betting on other winner than Bayern would be too long a shot - but betting on Bayern is unlikely to return any value. After Bayern it is Schalke raising some eyebrows, as they're only predicted fourth by the oddsmakers and second by Accuscore. It will be a close battle though, with Dortmund and Leipzig right at their heel. Schalke has the upper hand though, with great acquisitions to fill some holes in their last years 2nd placed squad. There's little value in their outright win, but go for the top-2 finish or winning the league without Bayern involved in the bet. You get odds of 6.50 for Schalke to win without Bayern.

Down the table Hoffenheim is likely to struggle to make it to the top-6 as indicated by the oddsmakers. In Accuscore simulations, Hoffenheim only reaches 10th position in the simulations. On the contrary, Frankfurt is likely to rise the ranks and pose a threat to the pre-determined top-6.

At the bottom of the table, Dusseldorf and Nurnberg are the most likely teams to get relegated, according to both Accuscore and the betting market. Hannover is slightly more probable to struggle and head to relegation playoffs rather than Freiburg.