Wind of change?
In Germany it's a start for another football season, with Bayern München still leading the pack. It's been seven years since Dormund upset the reign of the Bavarians so Müncheners are looking for their eight straight. It is not an easy or likely task, but there are a couple of factors that might hinder Bayern's spectacular domestic run.
Accuscore's simulations have once again determined the season before it even starts, so here's how it's most likely to look like when it's all done and dusted: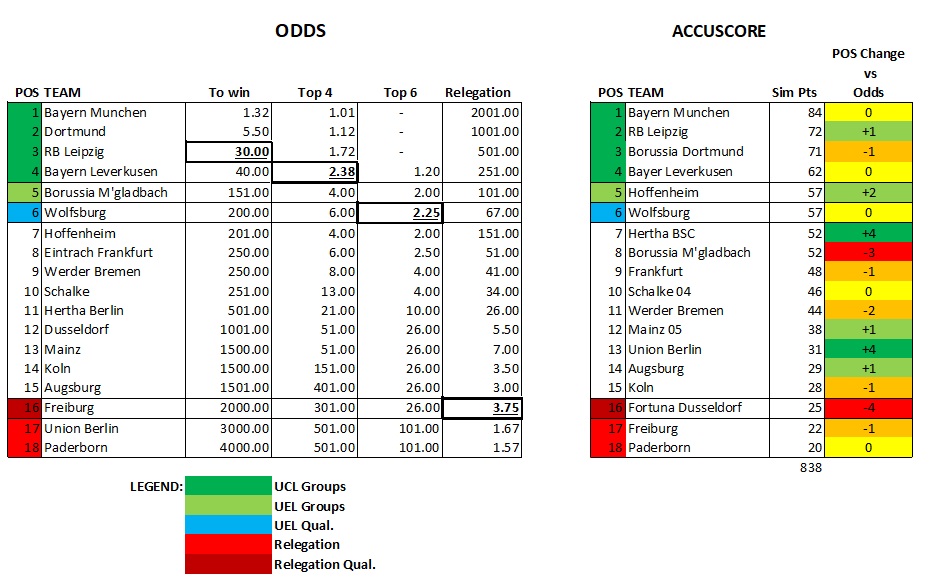 While Bayern has dominated in Germany, their success in Champions League has left a lot to be desired for. They've won UCL twice this century, but the victories date back to 2001 and 2012. It's definitely something that puts a chip on their shoulder heading to a new season under the helm of Nico Kovac. Winning the Bundesliga is no longer a priority, at least not for the majority of more experienced players. The team is stronger at the back than previously, with additions of Benjamin Pavard and Lucas Hernandez and the offense has more depth with the acquisition of Ivan Perisic from Inter. Bayern are far out favorites to win it again, but aiming for the UCL might leave the door open for hungry challengers.
Dortmund and RB Leipzig are right at Bayern's tail. Dormund was only two points behind to finish last season, while Leipzig has made strides in finding consistency and were 10 points away from München. Dortmund has made some upgrades to their squad, with Hummels returning from Bayern, Nico Schultz, Thorgan Hazard and Julian Brandt joining after successful spells in other Bundesliga teams. Lucien Favre has the team moving to the right direction and this might be the season they challenge the rule of Bayern for real.
The rise of RB Leipzig has been fast – many say too fast. The newcomer manager, only 32-year-old Julian Nagelsmann has been touted as one of the most talented young managers in Europe but he has a lot to prove with his young and competitive squad. Leipzig is not even in the same ballpark when it comes to big names or starpower in the squad, but that has not slowed them down. After being promoted they achieved miraculous 2nd spot right away, then placed 6th in "sophomore year" and last season climbed back to 3rd. While considered outsiders to title chase by many bookmakers, they're a definite dark horse in the race: if Bayern goes all-in to UCL and Dortmund slips up, RB Leipzig is a good bet to take the spoils. In Accuscore simulations Leipzig is marginally ahead of Dortmund, but far behind Bayern. Still, their odds to win the league are 30.00, which is worth a punt, if only for a nickel.
Behind the top three there's the trio of Bayern Leverkusen, Wolfsburg, Hoffenheim and Borussia Mönchengladbach. In Accuscore's simulations, Leverkusen is rather clear number four, repeating their last season's feat. They've gotten a bit better and are even more familiar of Peter Bosz's tactical ideas, so it's a good bet to put them to top-4 with odds of 2.38. For the fifth place Accuscore simulations lift Hoffenheim, while the oddsmakers tend to put Borussia M'Gladbach there as last season. In simulations M'gladbach falls to 8th, behind Hoffenheim, Wolfsburg and Hertha Berlin.
Hoffeinheim somewhat struggled last season and finished 9th. They struggled especially in the end of the season, which led to the appointment of highly rated Ajax assistant manager, Alfred Schreuder. The team has lost a couple of key players, but also made acquisitions to suit the new manager. Hoffenheim is ready for a big bounce back and going to push for Euroepan qualification. The odds for Hoffenheim to finish in top 6 are 2.00, which is exactly the probability Accuscore's simulations indicate.
Last but not least, Accuscore simulations like Wolfsburg to take the sixth spot, just like last season. Despite being led by another newcomer manager Oliver Glasner, who did a magnificent job at Austrian outfit LASK Linz, Wolfsburg have enough competence to challenge the top-6 teams, if not the top 3. They're a bit undervalued in the bookmakers papers as the odds for Wolfsburg top 6 placement offer 2.25 as opposed to Accuscore's 50% probability.
Accuscore's Bundesliga 2019/2020 Outright Picks
To win: RB Leipzig 30.00 | +240
Top-4: Bayern Leverkusen 2.38
Top-6: Wolfsburg 2.25, Hoffenheim 2.00
For all the German Bundesliga picks and predictions JOIN ACCUSCORE NOW!
Membership includes access to all the Accuscore's analysis on the major soccer leagues, MLB, NFL, NBA, NHL and much more.