One team to rule them all – again?
The new Premier League season is around the corner and surprisingly little has changed since the end of last. Manchester City took the spoils for the second time in a row, but Liverpool finally put up a challenge and only missed by one point. They did get the consolidation prize in the Champions League though, which featured another Premier League team in Tottenham Hotspur. In EPL, Spurs succumbed to fourth with some abysmal results in the last weeks of the season, but managed to hold on to their UCL spot before Arsenal and Manchester United. Chelsea was the in-betweener, ending their rather unremarkable season 3th in the EPL and then surprisingly winning the Europa League – which no one seemed to care until the final against Arsenal. The top six then remained as expected, with nine points separating 6th ManU and 7th Wolves. This gap, though, might be closing up sooner rather than later.
While Cardiff, Fulham and Huddersfield were not exactly surprises to get relegated, the challengers for top six spots were even more obvious: heavily invested Wolves, always challenger Everton and relentless Leicester in addition to Mauricio Pellegrini's rejuvenated West Ham filled the top-10 spots. All in all, we saw not too many surprises in all of last season.
As the new season approaches, the transfer activity might still pick up in the last minutes of new the new transfer deadline before the season starts. There are couple of speculated moves that might change the teams' prospects, but this is how Accuscore's simulation engine predicts the Premier League Season 2019/2020 to go in light of what we know now.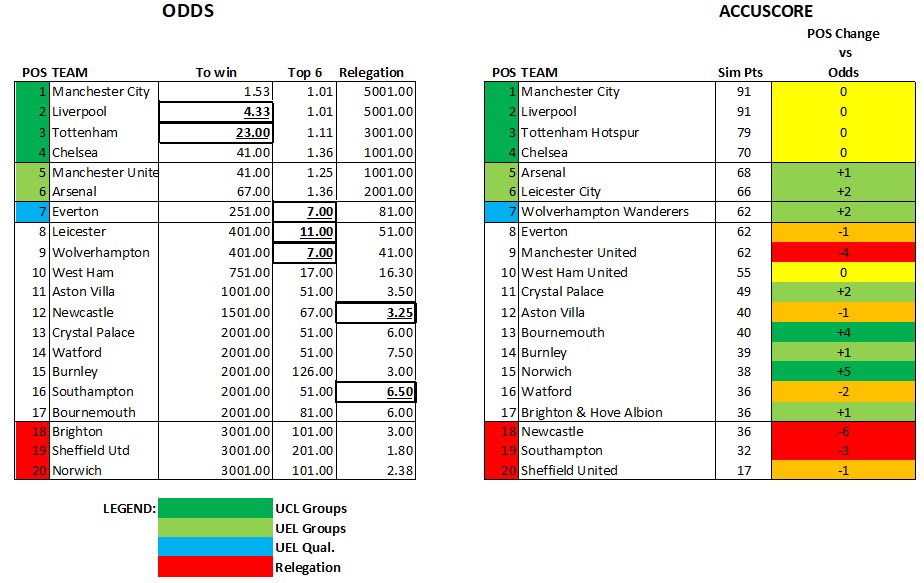 Top dogs still top dogs, except for one
The oncoming season 2019/2020 might prove different – at least a little bit. The strongest teams seem to be getting stronger, with Manchester City and Liverpool leading the pack by a country mile. City is only getting better and Guardiola is looking to build a proper dynasty from grassroots to the top. Liverpool are heading to the same direction under Jürgen Klopp, but are still some way off. The midfield is suspect and injuries might ruin the season for Liverpool, but they're likely the no. 1 challenger for City.
Manchester City and Liverpool look like the most likely winners – again. Liverpool's odds are way more attractive than those of ManCity and Accuscore simulations have them at the same point total. Go for Liverpool to take the title with the odds of 4.33.
Spurs look to build on their good UCL run last season and might still bolster their squad to better handle the rigors of combined EPL and UCL success. They've build the team with patience and are close to reaching the pinnacle – amazingly even spending money in the transfer market! Manager Mauricio Pochettino knows his game and if the key players stay healthy, there's room for improvement. Challenging Liverpool and Manchester City seems like an impossible job, but we've seen weirder things happen in the Premier League.
As a long shot, Spurs title will bring home odds of 23.00, which is a bit high compared to Accuscore's simulations. They might still make acquisitions before the season and even if the championship would need ManCity and Liverpool to slip, it's more likely than 4.35% indicated by the odds.
Chelsea starts the season with club and country legend Frank Lampard at helm, but he's unproven and doesn't have the best of starting points either. No acquisitions because of a transfer ban and the departure of Eden Hazard doesn't make things easy for Chelsea. Arsenal on the other hand, acquired highly touted Nicolas Pepe from Lille and loaned in Dani Ceballos from Real Madrid. It looks like Unai Emery is looking to outscore their opponents in every game, since the defense is mediocre at best but the attacking options are plenty.
The odd man out from the usual top six is Manchester United. Ole-Gunnar Solskjaer as a caretaker manager was exactly what was needed after the horrors of Jose Mourinho, but his record as legitimate manager was meager 0.80 points per game in 10 games. United have grown stronger in defense by bringing in Harry Maguire and Aaron Wan-Bissaka, but otherwise the team lacks quality in midfield and attack. It's highly likely ManU and OGS will need a longer adjustment period if things don't start clicking right away. ManU has immense talent in their team, but they're also under massive pressure under inexperienced manager and leading players not exactly looking like the leaders they should. The other clubs in the hunt for top 6 are going for the jugular and look to dethrone the former champion – or at least take their spot in the European playing fields.
Bubbling under ready to explode
Those teams in the hunt are namely Wolverhampton, Leicester and Everton. If you're brave enough, even West Ham or high-spending newly promoted Aston Villa could count as a dark horse. There's value in picking each of these teams to make it to top six – we'll let you decide which ones are the most likely. With the odds available, it might be worth taking them all!
Leicester
Leicester were deemed a one hit wonder after the astonishing championship, but refused to let go. After a slight downhill skid, Leicester looks ready to push for the top six again this season. They didn't start well under Claude Puel and he was replaced by Brendan Rogers for the last 10 games. Finishing 9th with 52 points was a decent feat, and the team looked remarkably better under Rogers' reign. Letting Harry Maguire go to Manchester during the summer was a hard decision, but one that had to be made. It just might prove to be a blessing in disguise, opening the roster spot for promising youngsters. Leicester has already brought in Monaco's brilliant midfielder duo Youri Tielemans and Adrien Silva as well as Newcastle's prolific Ayoze Perez. They might be looking for additions still, with money to spend from the Maguire deal. They're likely to do better this season than last and we're rooting for Leicester to push for the top six.
Leicester's odds for making it to top six are extremely attractive at 11.00. They'd probably need to add 10 points to their last season's total and considering the slow start, it's definitely doable. Accuscore's simulations put them to 6th with 66 points.
Wolves
Wolverhampton already showed last season they are up for the challenge and have only grown stronger this off-season. Finishing 7th with 57 points was definitely better than many anticipated, but it was indeed fully deserved. At times, Wolves played like a genuine contender to top four. They are now an accomplished top-10 team for sure, so the next step is to shoot for the top dogs. Nuno Espirito Santo has done remarkably good job in creating a system that promotes young talent and they've made some excellent acquisitions as well, once again. The hype is high on Wolves after great last season and there's no reason to believe they'd do worse this time around.
Despite landing the 7th spot last season, Wolves are regarded outsiders with 7.00 odds for top-6. In Accuscore's simulations they repeat the 7th, but with 62 points which can be enough to 6th spot as well. There's no saying they couldn't do better, especially if one or two of the big ones fall from grace.
Everton
Finishing off the bubbling under section is a team always bubbling under, Everton. Marco Silva continues his reign and molding the former heavy footed, hard-working team into more nimble and skilled outfit, which is finally the trend in England as well. After decent last season that saw Everton finish 8th, they've not made a lot of changes but added depth and competition to the starting XI. Midfield dynamo Andre Gomes was signed permanently, forward Moise Keane arrived from Juventus to make the final breakthrough and Jean-Philippe Gbamin came to fill the shoes of Idrissa Gueye, while Fabian Delph brings in a load of experience. Everton is likely to challenge for the European spots once again, but is now in tougher spot than before, with other hopefuls grown stronger and hungrier. It's likely to be a close battle between the trio if any of the big six stumble and fall.
While Everton is placed lower by Accuscore's simulations (8) than by the oddsmakers (7), the odds for top-6 finish are nice enough for a shot at 7.00. It's all very even from 5th to 9th spot, so go for the odds.
Going down
The newcomers Norwich and Sheffield United are the favored teams to head straight back to the Championship. Aston Villa has spent a fantastic amount of money to stay up once and for all, and it does seem likely with the quality they now possess. According to Accuscore simulations, Norwich are likely to escape the descending elevator – if only barely. They have a decent team with a talented core and will cause some problems for the more established EPL teams. Our favorites to go down differ slightly from the oddsmakers, so here's our picks for the relegation
Newcastle
Yes, sorry Newcastle fans. The Magpies are once again on a brink of total collapse, with key players leaving, controversial coaching changes and unlikely spending on better players. The fans have already lost all hope and it doesn't look that much better according to the Accuscore simulations. Steve Bruce is an experienced manager, but lacks success in Premier League level and to be fair the current team barely merits that tag. The defense is in shambles and overall the team seems more suited to 2nd tier.
Newcastle to go down with odds of 3.25 seem like a good pick, as it will be difficult to stop the downward spiral.
Southampton
We tagged Soton to go already last season, but they managed some 5 points more than anticipated. The team is not better this year and dodging the bullet last season might encourage them to put their guard down. It will be a tough battle at the bottom of the table, but Southampton is slightly worse off than their competitors. In order to survive, they need a bunch of players to step up, which already seems like a pipedream. In addition, they need some other relegation candidates to fail in their bid.
Southampton is not a good team and were close to relegation last time around. Now the odds of 6.50 are way too high to pass.
For all the UK Premier League picks and predictions JOIN ACCUSCORE NOW!
Membership includes access to all the Accuscore's analysis on the major soccer leagues, MLB, NFL, NBA, NHL and much more.