Is there life on France…behind PSG?
The French top tier football league Ligue 1 kicks-off this Friday. There's been no lack of drama and headlines during the off-season, but it has once again only concentrated on PSG and namely a Brazilian forward called Neymar. The saga continues, but regardless of its ending, PSG is still clear favorites to win the league and there's barely a challenger on sight. They've won six out of seven previous championships, only anomaly being the amazing feat pulled by Monaco in 2017. Monaco's fall from grace has been nothing but spectacular after the championship and last season saw the famed club in the relegation battle - which they eventually survived by the skin of their teeth and 2 points.
Last season featured some surprising results as well, as 2010/2011 champions LOSC Lille reclaimed some of their old glory and landed the no. 2 spot behind PSG, hence qualifying to the Champions League Group Stage. Monaco's absence from their usual top-5 position, Saint-Etienne took advantage and pulled a rabbit from their hat finishing 4th right before Marseille, who were struggling for most of the season.
Challengers remain
The summer's transfers out included some big names, such as Lille's Nicolas Pepe, Bordeaux's Jules Kounde and Lyon's trio Tanguy Ndombele, Nabil Fekir, Ferland Mendy. As usual, no big name signings outside of PSG were made, but the top teams have their replacements in place. For example, Lyon replaced their losses by going hunting from Lille, landing Brazilian powerhouse Thiago Mendes and mobile left-back, Mali international Youssuf Kone. While Lyon is likely to keep up their pace with excellent young core and hot prospects on the verge of a break-through, hard times might follow in Lille.
Situation in Monaco is interesting, as the tumultuous season finally saw the return of the creator of their recent success Leonardo Jardim as a manager in January. His 17 games in charge were not exactly glorious, but enough to save the team from what looked like a certain relegation. Entering a new season, Monaco is a huge question mark, but they've tasted success under Jardim before.
One of last season's success stories, Saint-Etienne looks to build on their 4rd place with not much changes. Manager Jean-Louis Gasset moved aside and made way to his long-time assistant Ghislain Printant, but the team remains competitive and they might prove to be a real thing – at least challenging the regular top clubs like Marseille, Monaco, Lyon and Lille.
Enough of the speculation and onto the simulations. This is how the French Ligue 1 Season 2019/2020 is bound to happen, according to Accuscore's simulation engine.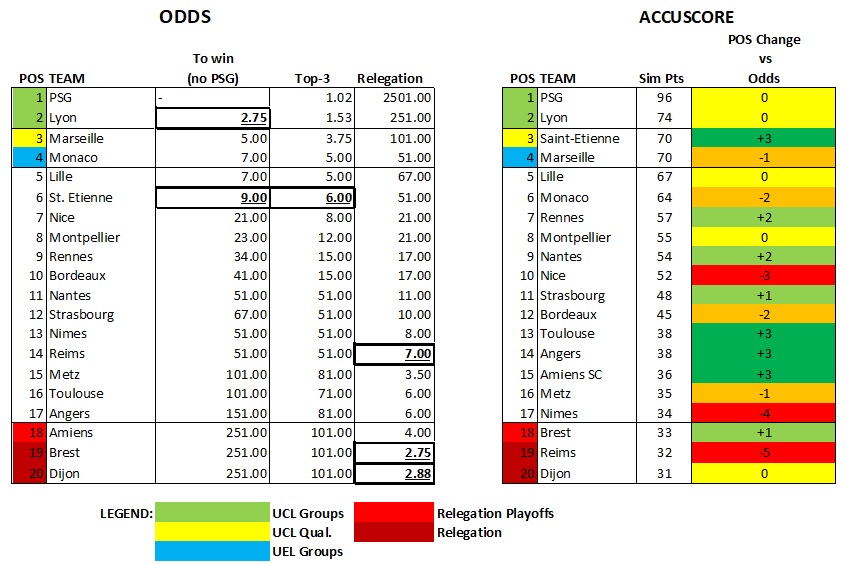 Accuscore's best picks for Ligue 1 Season 2019/2020
In the illustration above, we can spot a couple of differences between the oddsmakers assessments and Accuscore's simulations. PSG is such a clear favorite to win, that the assessment is better to do without that spoilsport. The most attractive odds are bordered in the grid and here's the analysis regarding those picks.
Saint-Etienne
As stated before, Saint-Etienne got through the summer unscathed and return as competitive as ever. Their system seemed to work perfectly last season and they rarely dropped points – unlike the top teams tend to do in Ligue 1. There were no ups and downs, but they played solid throughout the season, which is a remarkable feat with not that deep quality. On the downside, they didn't get much stronger either and have some European games to cope with, but Accuscore's simulations believe their production to keep up to last season and even improve a bit. They are by no means a candidate to challenge PSG, but can easily keep up with the rest.
The odds of 6.00 for top-3 spot and 9.00 to finish just behind PSG are attractive enough to place a bet.
Lyon
Lyon seems like the eternal number two in Ligue 1, but they probably don't mind. Despite losing key players again this summer, they've a great system in place and excellent young core in addition to quality replacements. It's hard to fathom them falling behind any of their counterparts, unless something goes really wrong to start with. It's quite a safe bet they're right up there with PSG, but not quite able to challenge for the title.
The odds of 2.75 for 2nd place might seem a tad low, but we'd go with a 50/50 chance so that'll do!
Brest and Dijon
The biggest relegation candidates by far in any oddmakers books and in the last three in Accuscore's simulations. Both teams are newly promoted and will encounter problems during the season. There are a lot more accomplished teams fighting against the relegation and it's hard to imagine the likes of Toulouse or Angers to fail in their bid to stay up. The odds are not amazing for Brest or Dijon to go down, but good enough to make it profitable already if one gets relegated.
Take Brest to go down with odds of 2.75 and Dijon to go down with 2.88 – one of two will do!
Reims
A bit of a stretch, but the odds are attractive. Reims was one of the better small teams last season, finishing 8th, but many times there's a bit of a sophomore slump after overachieving. Their team is not that strong and they no longer have the element of surprise on their side. Reims also failed to acquire any improvements during the off-season, which might prove costly in the battle for Ligue 1 survival. Reims is no the most likely team to go down, but in Accuscore simulations they struggle mainly against their own level teams down the table.
Odds of 7.00 for Reims to go down are a bit too high and we'll take this long shot with ease.
For all the French Ligue 1 picks and predictions JOIN ACCUSCORE NOW!
Membership includes access to all the Accuscore's analysis on the major soccer leagues, MLB, NFL, NBA, NHL and much more.