It's been a reign of Juventus in Italy for the past seven seasons. The challengers have come close. But La Vecchia Signora has prevailed so far. Now they've bolstered their team with arguably the best player in the world, Cristiano Ronaldo, and once again are heavy favorites to retain the Scudetto for the eight time in a row.
The challengers have grown somewhat stronger during the summer. The four teams from Milan and Roma are relentlessly chasing Juventus, with addition of Napoli down south. Napoli is considered the best in this quintet, but according to title winning odds it is a close battle between Napoli, Inter and Roma, with Ac Milan and Lazio chasing the top four Champions League qualifying spots.
Accuscore simulations for the season indicate similar pack on top, but with a couple of changes in the order. Here's how the simulations play out compared to bookmakers winning and top-4 odds: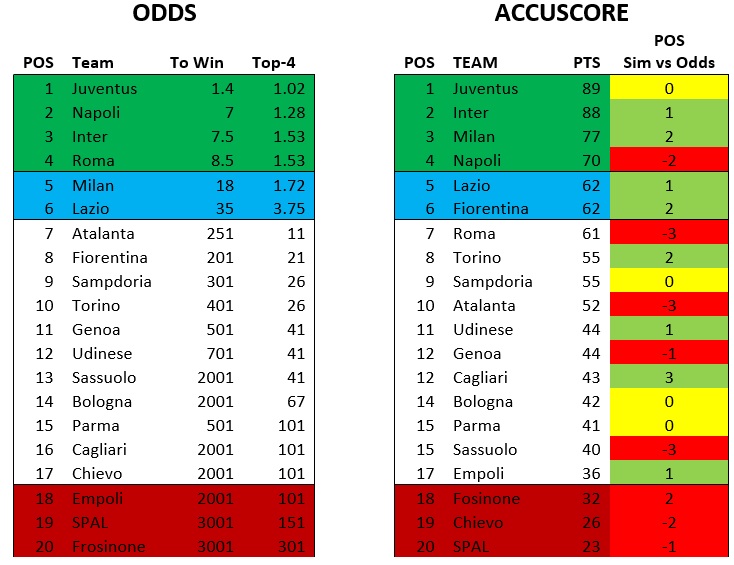 Analysis & Predictions
Juventus is still likely to hold on to the title, led by Cristiano Ronaldo. Their veteran core has started to dismantle though, with Gianluigi Buffon and Claudio Marchisio now gone and defenders Chiellini, Barzagli and returning Bonucci not getting any younger. The experienced team is still one of the best in Europe and they're likely to push for Champions League trophy as well. This might mean a bit less focus on Serie A, which plays into the hands of the hungry challengers who have been harshly brushed aside for seven years now. Juventus has been made bigger than 70% favorite to capture the title and according to simulation those odds have no value.
In simulations, the strongest challenge for Juventus comes from Milan, where Intern has grown stronger after placing fourth last season. Luciano Spalletti's group showed a lot of promise and additions of Radja Nainggolan from Roma, Kwadwo Asamoah from Juventus and Stefan de Vrij from Lazio show that Inter means business. The talented team has somewhat lacked in depth, but now boast quality players for each position, including top-notch goalkeeper Samir Handanovic and last season's top scorer Mauro Icardi. With a familiar system in place, strengthened team and chip on their shoulder, Inter looks like a great dark(ish) horse for the scudetto. The championship odds of 7.5 for Inter are attractive enough to go for – this just might be the season Juventus drops the ball.
Milan, Napoli and Lazio are the next in line, but according to simulations they're a bit further away from Juventus and Inter. Milan has once again made plenty of changes to their team and gelling together might take some time – they've added 11 players, some of which are quite certain starters, like Gonzalo Higuain and Mattia Caldara from Juventus. If Gennaro Gattuso gets his team going from the start, they are likely to pose a threat to their rivals next door and Juventus as well. Milan's odds for winning the title is rather attractive, 18.00 which is big enough for a long shot and small stake bet.
Napoli, placed second by the oddsmakers, has been the constant pain in Juventus' side for some time now. However, while the team has kept its talented core intact, other teams have grown remarkably stronger. Simone Verdi arrived to Napoli from Bologna this summer and Fabian Ruiz came from Spanish Real Betis, but midfield's dynamo Jorginho left for Chelsea and goalkeeper Pepe Reina went to Milan. Situation between the posts is confusing, with three new arrivals, who've only played a handful of top tier football in the past couple of seasons. Newly appointed Carlo Ancelotti has everything to lose after Maurizio Sarri's successful reign. With these question marks, Napoli might fall from grace but nevertheless hang on to their top four seeding.
Another top team placed lower in the simulations than the odds would indicate is last season's third placed AS Roma. The simulations go as far as putting Roma behind Fiorentina and out of European football altogether. Similar to couple of the other top teams, Roma is undergoing some radical changes. Francesco Totti is long gone, arguably one of the best goalkeepers in the world, Alison left for Liverpool and Daniele De Rossi is already 35. Roma has acquired quality players, but how far will the likes of Javier Pastore, Steven Nzonzi, Patrik Schick or Justin Kluivert take the team? Goalkeeper situation is likely to be problematic, but so seems to be scoring goals: Edin Dzeko scored 6th most goals last season in Serie A with 16 tallies, but the next in line Stephan El Shaarawy only managed seven. It's a lot of pressure placed on youngsters Cengiz Ûnder, Justin Kluivert and Patrick Schick to provide supporting fire – especially if Dzeko's age begins to slow him down. Roma is likely to concede more without Alisson, so there is a grave need for more goals than they scored last season.